Business Electric Rates Massachusetts
Find the lowest business electricity rates for Massachusetts today instantly compare your commercial electric rates Massachusetts lower utility bills with low energy rates. We understand the need to shop and compare utility cost of commercial electricity rates in Massachusetts. Lowest electricity rates in Mass.
"Lower Utility Bills with Boston, Massachusetts commercial Electric Rates"
Business Electric Rates in Massachusetts
Shop and Compare Massachusetts Commercial Electricity Suppliers
Home Electric Rates in Massachusetts
Shop and Compare Massachusetts House Electricity Suppliers
Let Us Show You How To Save Money In Massachusetts With Eversource or National Grid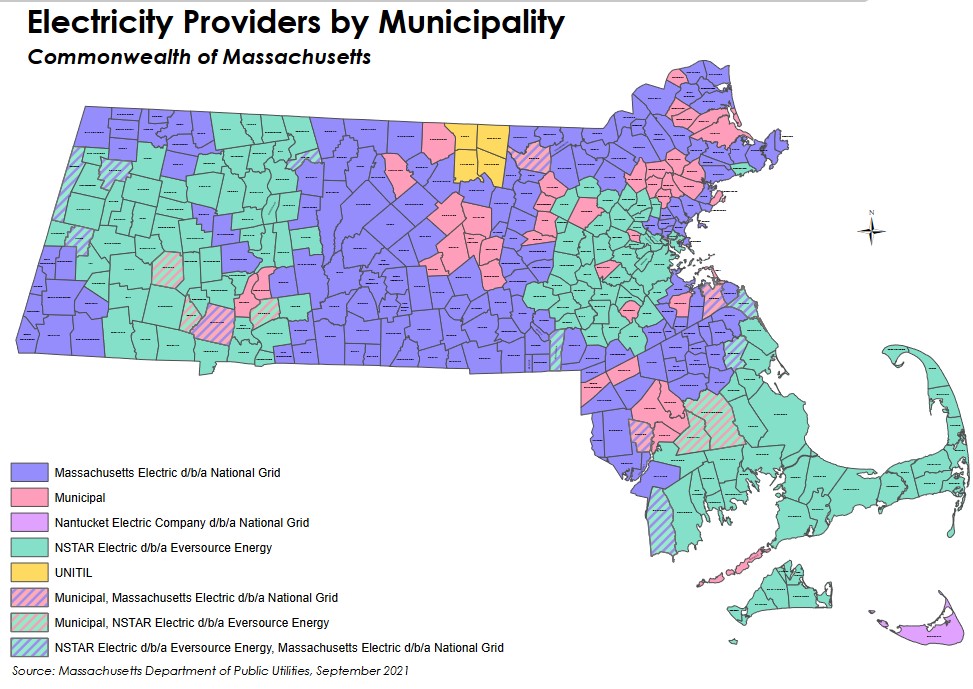 NATIONAL GRID UTILITY BILL SAMPLE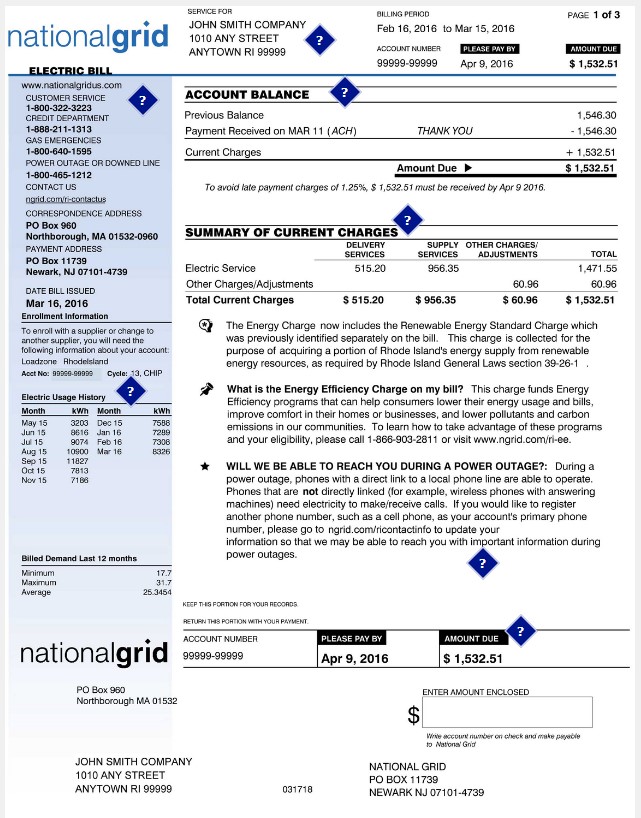 How To Read Nation Grid Electricity Bill
* The Account Information :
Account number, customer address, billing period, account number, amount due.
* The Account balance :
Previous balance: Charges from previous bills (here a bill from May 5th, 2014).
Payment received: Payment last received by National Grid for the payment of the previous bill. If the bill has been paid in full, this will be equal to the previous balance.
Current charges: These are the charges for the current bill.
Amount due: This will be equal to the current charges if the previous bill has been paid in full.
"Do not pay": Depending on your payment method, a different message can appear here describing your next actions for bill payment.
Message center: Since the customer did not pay his/her bill the previous month (the $207.86 outstanding balance for previous charges), an "adjustment" charge of $3.12 (1.5% of $207.86) has been added to the current bill.
* The Summary of current charges :
This summary divides the charges in the electric and gas service, as well as the delivery and supply service.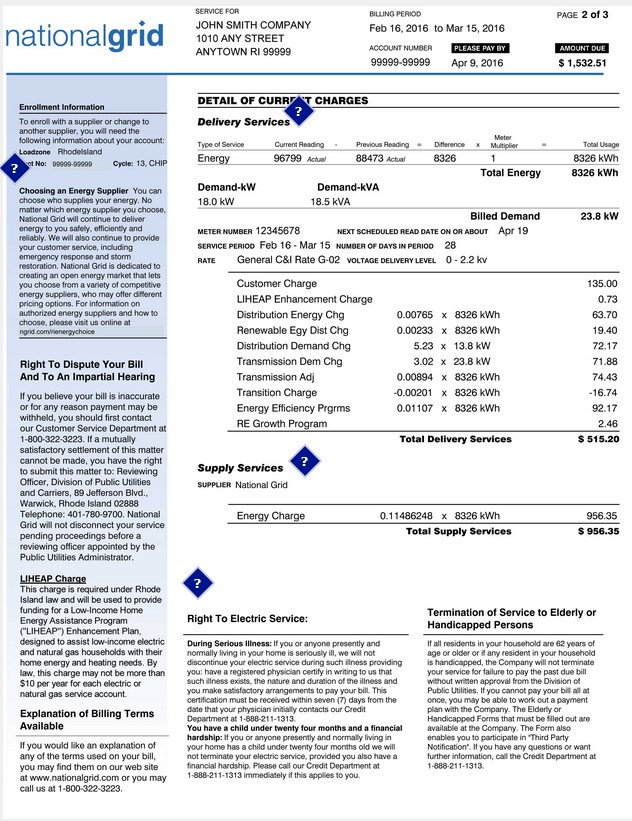 How To Read Nation Grid Electricity Bill
The Left column: This column gives you information about your monthly electricity and gas usage.
The Delivery services: Electricity delivery
The Meter information: This resumes the meter reading: dates of current and last meter reading and number of days, kWh shown on current and last meter reading and number of kWh.
The Rate: Electric SC1 Non Heat: This describes your rate plan. You can find more information different rate types on Rates & Tariffs for National Grid in New York State, and Service Classification for National Grid in New York State.
The Basic Service: This is a monthly fixed amount no matter how much electricity you consume. It includes the cost for reading and maintaining the meters, billing, equipment and maintenance.
The Delivery: This is the charge to bring the electricity from the electricity production site to your home. This is not a supply cost since it is the same regardless of your supplier.
The Incremental state assessment: Also called the Temporary New York State Surcharge, it is created to encourage the conservation of energy and other resources provided through utility companies.
EVERSOURCE UTILITY BILL SAMPLE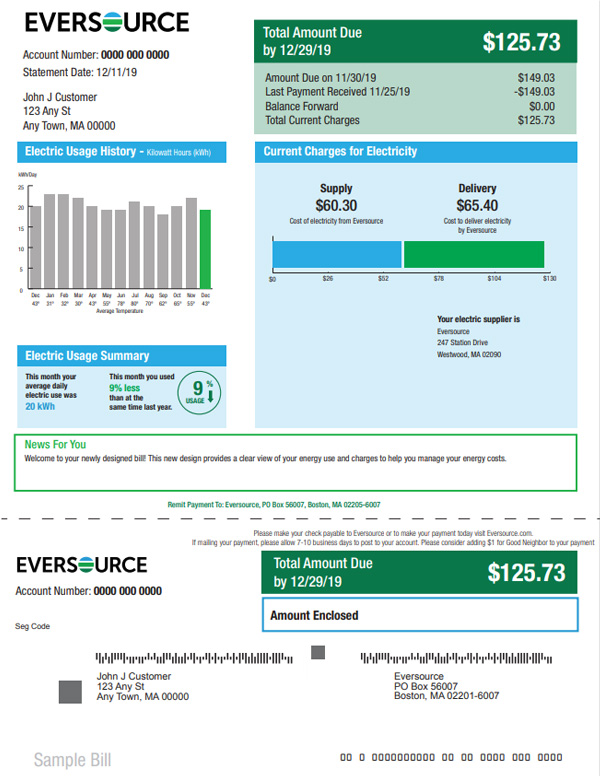 How To Read Eversource Electricity Bill
Atty Genl Consultant Exp Adj: This charge recovers costs incurred by the Attorney General of Massachusetts for experts and consultants that were used in Eversource's latest rate case.
Basic Service Cost Adjustment Factor: This bill component tracks the recovery of administrative costs to obtain energy for Basic Service customers. It also reflects a charge or credit when there is a difference in what customers have paid for Basic Service energy and what the supplier has charged Eversource for that energy during the prior year.
Customer Charge: This fixed monthly charge covers Eversource's basic costs for billing, metering and meter reading, customer service center, as well as making service available to customers, such as installing and maintaining meters, utility poles, power lines and equipment.
Distribution Energy Charge: Charge for delivering the electricity to you across our poles and wires and includes maintenance and operations of the distribution system, power restoration and service. Residential customers will notice a new billing structure intended to encourage conservation by charging a higher rate for electricity use above a certain kilowatt hour (kWh) level.
Energy Efficiency Program Cost Adj: Recovers incremental energy efficiency program costs as approved by the Department of Public Utilities.
Net Metering Recovery Surcharge: This charge is intended to recover the cost of net metering credits and displaced distribution revenue associated with the installation and operation of customer net metering generation facilities.
Pension and Post-Retirement Benefits Other Than Pension Adjustment Mechanism (PPAM): Recovers costs for providing current employees with pension benefits and retirement health care benefits.
Renewable Energy Charge: This charge funds the development of new energy sources, such as wind, solar and water power, to reduce our reliance on traditional energy sources like coal and nuclear fuels.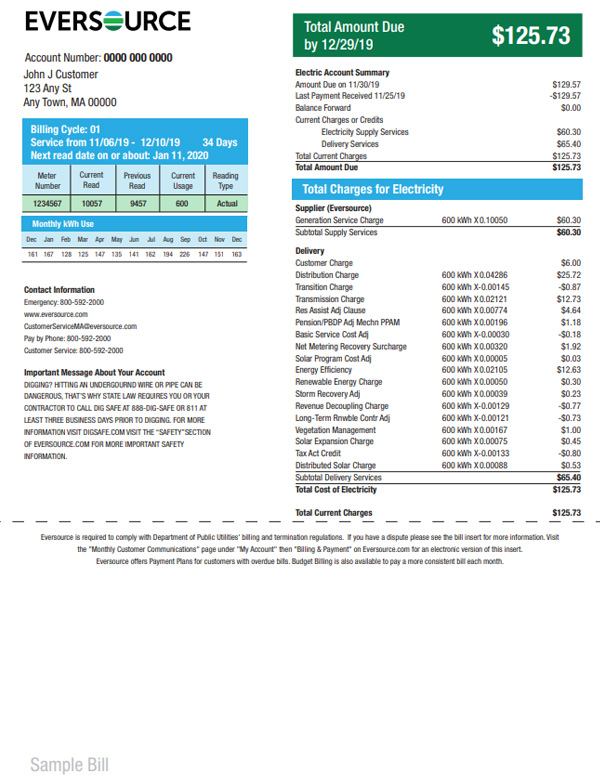 How To Read Eversource Electricity Bill
Residential Assistance Adjustment Clause: This charge recovers costs for providing discounted residential rates for qualified low-income customers. This charge also recovers costs related to the operation of the NUStart program, which assists low-income/fixed income customers in maintaining year-round electric service.
Revenue Decoupling Adjustment: A charge or credit applied in order to balance Eversource's actual distribution revenue with the revenue level Eversource is approved to collect. Revenue Decoupling breaks the dependencies of revenue on sales and encourages utilities to aggressively promote energy efficiency programs.
Solar Program Cost Adjustment: Recovers the capital investment in approved solar installations and associated operating costs, such as program administration, land lease, and property tax costs.
Storm Recovery Cost Adj: This charge recovers the storm fund deficit incurred over the past three years and reflects an increase in annual storm cost reserve.
Supplier Services: The amount your supplier charges for making the electricity you use. Eversource purchases Basic Service through a competitive bid process for those that have not chosen a supplier. This price is the lowest available price on the competitive marketplace at the time of the bids and is passed onto the customer. Eversource then pays the supplier on your behalf. If you have chosen a competitive supplier, you will see that charge here.
System Benefits Charge: This charge is collected to promote energy efficiency and is returned back to the customer through energy-efficiency measures, programs, services, incentives and rebates.
Transition Charge: This charge covers past investment costs, such as those incurred from the mandated sale of generation plants as a result of restructuring. This charge will decrease over time as these costs are paid.
Transmission Charge: This federally-mandated charge covers the cost of transporting the electricity over the high-voltage (transmission) lines from the generation plant to Eversource's distribution system so we can deliver it directly to you. The transmission charge is collected by Eversource and passed on to transmission providers.
Commercial Electricity Supply in Massachusetts
Shop and Compare Massachusetts Business Electricity Suppliers Today
Massachusetts Electricity Rates

All pricing is subject to change based on MA utility, usage, rate class, zone and start date.
** Commercial rates above are for selected zip codes in Massachusetts doing 500,000 kWh annual or less.
** If your business is doing more then 500,000+ kWh annual then CLICK HERE
** CLICK HERE to select your business rate class, zone, start date and exact usage.
Massachusetts Electricity Supplier Service Area
We provide Massachusetts Electricity Supply in all area's listed below, compare commercial Massachusetts utility bills today and save.
Abington




Accord




Acton




Acushnet




Adams




Agawam




Amesbury




Amherst




Amherst Center




Andover




Arlington




Arlington Heights




Ashburnham




Ashland




Athol




Attleboro




Attleboro Falls




Auburn




Babson Park




Barnstable




Barrowsville




Beach Bluff




Beaconsfield




Bedford




Belmont




Berkley




Beverly




Beverly Cove




Billerica




Blackstone




Bliss Corner




Boston




Braintree




Braintree Highlands




Bridgewater




Briggs Corner




Brighton




Brightwood




Brockton




Brookline




Bryantville




Burlington




Cambridge




Canton




Carver




Cataumet




Centerville




Charlton




Charlton City




Charlton Depot




Chartley




Chelmsford




Chelmsford Center




Chelsea




Cherry Valley




Chicopee




Chicopee Falls




Cliftondale




Clinton




Cochituate




Cohasset




Concord




Cushman




Dalton




Danvers




Dedham




Dighton




Dorchester




Douglas




Dracut




Dudley




East Arlington




East Braintree




East Brewster




East Bridgewater




East Carver




East Falmouth




East Lee




East Lexington




East Longmeadow




East Lynn




East Mansfield




East Milton




East Orleans




East Springfield




East Templeton




East Walpole




East Wareham

Easthampton




Easton




Everett




Fairhaven




Fall River




Fayville




Feeding Hills




Fitchburg




Foxborough




Framingham




Framingham Center




Franklin




Freetown




Gardner




Gates Crossing




Georgetown




Gloucester




Grafton




Greenbush




Greenfield




Greenville




Greenwood




Groveland




Hadley




Halifax




Hamilton




Hamilton Worcester




Hampden




Hanover




Harvard




Harwich




Hathorne




Haverhill




Head of Westport




Hingham




Holbrook




Holden




Holliston




Holyoke




Hudson




Hull




Hyannis




Islington




Jamaica Plain




Jefferson




Kingston




Lakeville




Lancaster




Lanesville




Lawrence




Leicester




Leominster




Lexington




Lincoln




Littleton




Longmeadow




Lowell




Ludlow




Lynn




Lynnfield




Malden




Manchaug




Manchester-by-the-Sea




Mansfield




Mansfield Center




Marblehead




Marlboro




Marlborough




Marstons Mills




Mashpee




Mattapan




Mattapoisett




Maynard




Medfield




Medford




Medway




Melrose




Mendon




Merrimac




Methuen




Middleborough




Middleborough Center




Middleton




Milford




Millbury




Millis




Milton




Milton Village

Monponsett




Monson




Montague




Montrose




Nantucket




Nantucket Island




Natick




Needham




New Bedford




Newbury




Newburyport




Newton




Newtown




Nonquitt




Norfolk




North Abington




North Adams




North Amherst




North Andover




North Attleboro




North Attleborough Center




North Braintree




North Cambridge




North Carver




North Chatham




North Chicopee




North Dartmouth




North Dighton




North Easton




North Fall River




North Grafton




North Marshfield




North Oxford




North Reading




North Rochester




North Wilbraham




Northampton




Northborough




Northbridge




Norton




Norwell




Norwood




Nutting Lake




Oakdale




Ocean Bluff-Brant Rock




Oxford




Palmer




Peabody




Pembroke




Pigeon Cove




Pinehurst




Pittsfield




Plainville




Plymouth




Quincy




Quissett




Randolph




Raynham




Reading




Rehoboth




Revere




Richardson Corners




Rochdale




Rochester




Rockland




Rockport




Salem




Salisbury Beach




Sandersdale




Saugus




Saundersville




Scituate




Scituate Center




Seekonk




Sharon




Sheldonville




Shrewsbury




Silver Beach




Somerset




Somerville




South Acton




South Amherst




South Barre




South Boston




South Braintree




South Chatham




South Chelmsford




South Dartmouth

South Easton




South Hadley




South Hadley Falls




South Lawrence




South Lowell




South Middleboro




South Natick




South Orleans




South Peabody




South Sudbury




South Walpole




South Westport




South Weymouth




South Williamstown




South Yarmouth




Southampton




Southborough




Southbridge




Southville




Southwick




Spencer




Springfield




Sterling




Stoneham




Stoughton




Stow




Sudbury




Surfside




Sutton




Swampscott




Swansea




Tatnuck




Taunton




Templeton




Tewksbury




Thorndike




Tyngsboro




Unionville




Uxbridge




Village of Nagog Woods




Wakefield




Walpole




Waltham




Waquoit Village




Ware




Wareham




Watertown




Waterville




Waverley




Wayland




Webster




Wellesley




Wellesley Hills




West Acton




West Boxford




West Boylston




West Bridgewater




West Concord




West Groton




West Lynn




West Medway




West Millbury




West Roxbury




West Somerville




West Springfield




West Townsend




West Warren




West Yarmouth




Westfield




Westford




Westminster




Weston




Westport




Westport Point




Westwood




Weymouth




Whitinsville




Whitman




Willimansett




Wilmington




Winchendon Springs




Winchester




Winthrop




Woburn




Woodville




Worcester




Wrentham




Yarmouth
Shop Energy Suppliers in Massachusetts
Searches related to Massachusetts business electric rates
Massachusetts electric rates 2019
Massachusetts electricity suppliers rate comparison
national grid electric rates
eversource electric rates MA
Massachusetts electric rates 2020
national grid electricity rates MA
Massachusetts electric rates history
Massachusetts electricity switch
Massachusetts electric rates 2021
Massachusetts electric rates 2022
Massachusetts electric rates 2023
Massachusetts electric rates 2024
Commercial Electricity Rates in Massachusetts
Shop and Compare Massachusetts Business Electricity Suppliers Today