SHOP ALL SUPPLIERS AT ONCE
INSTANT RATES - REAL-TIME PRICING - ELECTRICITY & NATURAL GAS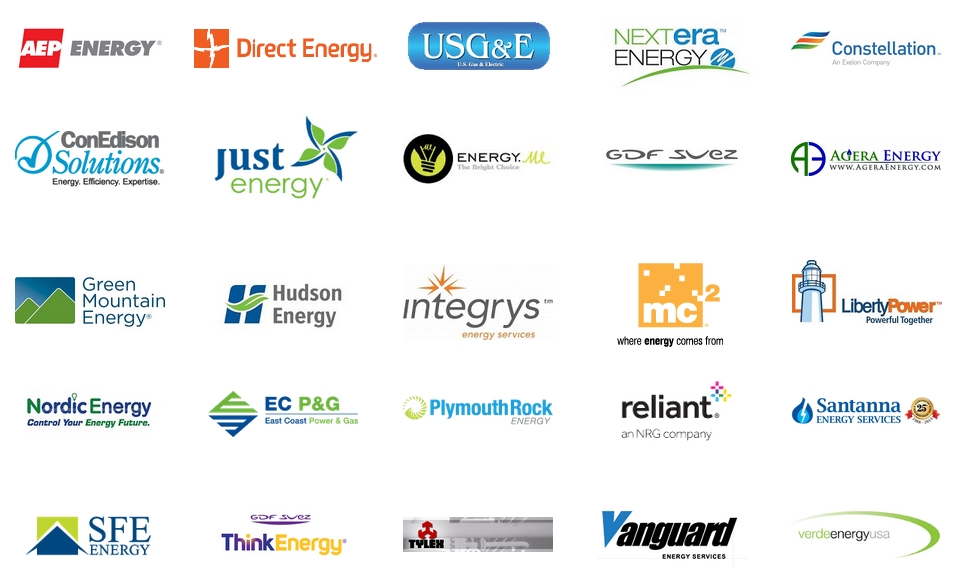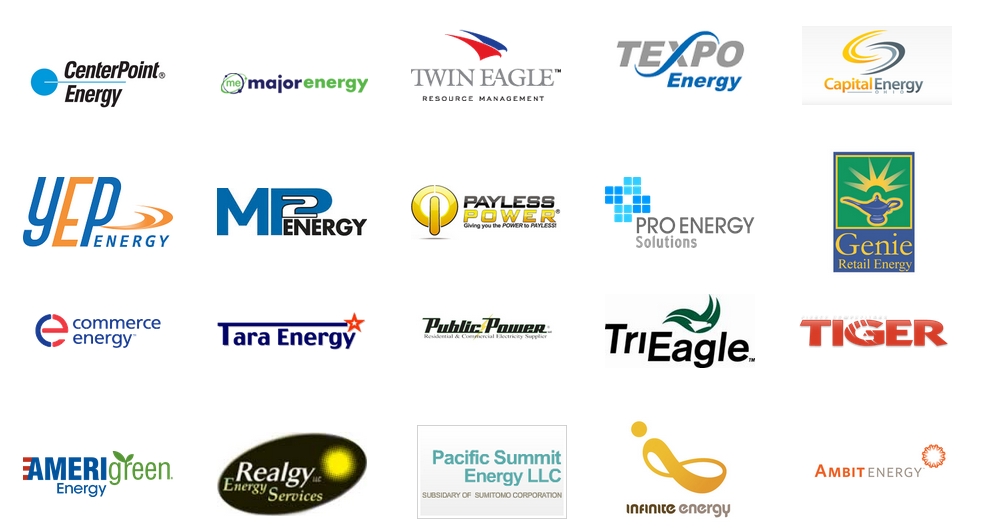 American PowerNet – American PowerNet is an independent power company not affiliated with any utility or marketer. For over 15 years, we have been helping clients cut power procurement costs through innovative wholesale and retail supply-side management services. American PowerNet assists large retail consumers "buy direct" in the wholesale market, cutting their power costs 5-15%.
BlueStar Energy – BlueStar Energy is an independent retail electric supplier unaffiliated with any utility. The fastest-growing energy supplier in the nation, BlueStar is certified to sell electricity in Illinois, Maryland and the District of Columbia. BlueStar also provides green power and energy efficiency solutions to home and business customers.
Commerce Energy – Commerce Energy Group, Inc. is a leading independent U.S. electricity and natural gas marketing company, serving a broad base of residential, small business, commercial and industrial customers located across the U.S. in energy deregulated states.
ConEdison Solutions – ConEdison Solutions offers a wide range of energy solutions, including attractively priced energy services, clean energy including Green Power and Wind Power, and fixed, variable, and customized electricity pricing options. We offer energy solutions to commercial, industrial, small business, government, and residential customers.
Constellation Energy – We are North America's largest competitive provider of power to wholesale, commercial, industrial and governmental customers, one of the top three gas marketers and a leading supplier of coal to customers around the world. With more than 32,000 megawatts of peak electricity load under contract, we help thousands of businesses buy and manage energy – giving them more control over their bottom line.
Direct Energy Business – Direct Energy Business provides innovative electricity and natural gas solutions to businesses across North America. With more than 20 years of industry experience, we are committed to offering experienced, straightforward guidance; industry-leading products; and personalized service to commercial and industrial organizations across all sectors.
Dominion – Dominion is one of America's leading producers and transporters of energy, serving customers in the mid-Atlantic, Midwest and Northeast regions.
First Energy Solutions Corp. – FirstEnergy Solutions Corp. offers a wide range of energy and related products and services, including the generation and sale of electricity and energy planning and procurement. We are a leading competitive supplier of energy to residential and commercial and industrial customers in Ohio, Pennsylvania, New Jersey, Maryland, Illinois and Michigan. We currently supply electricity to more than 300,000 accounts and our experienced energy procurement team, The E Group, provides consulting services to more than 120,000 accounts, including many of the nation's leading companies.
Gexa Energy – Businesses run on energy: people, processes, facilities, electricity. Tapping into the resources to improve your profits can be easier when it comes to supplying your business with the most efficiently priced electricity delivered with impressive attention to customer service. Gexa Energy can boost your profits by cutting your costs on electricity.
Hess Energy – Hess can help you take control of your electricity costs and navigate your way through today's complicated energy market. We offer a number of pricing options to help you meet your risk management objectives and energy procurement goals.
Integrys Energy Services – Integrys Energy Services provides natural gas and electricity to thousands of retail commercial, industrial, and small businesses through Energy Choice programs across the United States and Canada.
Liberty Power – Liberty Power is a leading supplier of retail electricity and the fastest growing independent energy retailer focused on business and government customers in the United States. Large enterprises, entrepreneurs, emerging and mid-size businesses as well as city, state and national government agencies rely on Liberty for low-cost electricity and outstanding customer service.
MidAmerican Energy Company – MidAmerican Energy Company offers electric supply solutions. Many businesses now can select their electric energy provider. If you are one of these businesses, MidAmerican Energy is available to help you learn about electric choice and why it may make sense for you to purchase your electric energy from a supplier other than your local electric company. MidAmerican Energy offers competitively priced retail electric supply services to commercial and industrial customers in Illinois, Ohio and Michigan. MidAmerican Energy has a reputation of bringing its customers reliable, high quality energy services at low cost.
North American Power – North American Power Company offers Business electric and residential electricity properties targeting Connecticut.
Pepco Energy Services – Since 1995, Pepco Energy Services has successfully evolved to become one of the leading providers of energy and energy-related products and services for the full range of energy users from small business customers to large commercial, institutional, industrial and government users.
RBS Sempra Commodities – Choosing the right delivered energy product goes far beyond a contract price. The most important measure of your contract's performance is the weighted average cost of energy (WACOE). Sempra Energy Solutions' sales and structuring experts can help you select a product that works best for your business.
Reliant Energy – Every business has unique needs. That's why we provide a customized quote that is based on your actual usage and demand. Our straight-forward price structure ensures you pay only for the electricity your business uses.
SUEZ Energy Resources – At SUEZ Energy Resources NA, we successfully manage the power needs for hundreds of commercial and industrial companies.
UGI Energy Services – Since 1985, UGI Energy Services has partnered with thousands of commercial and industrial businesses to reduce the impact of everyday energy costs. We are skilled in tailoring energy purchasing programs to fit customer requirements, ranging from large industry to small business.
Washington Gas Energy Services, Inc. – Washington Gas Energy Services, Inc. (WGES) is one of the largest and most experienced natural gas and electricity suppliers in the Mid-Atlantic region with approximately 200,000 customers in Maryland, Virginia, Delaware and DC